3rd CEO Forum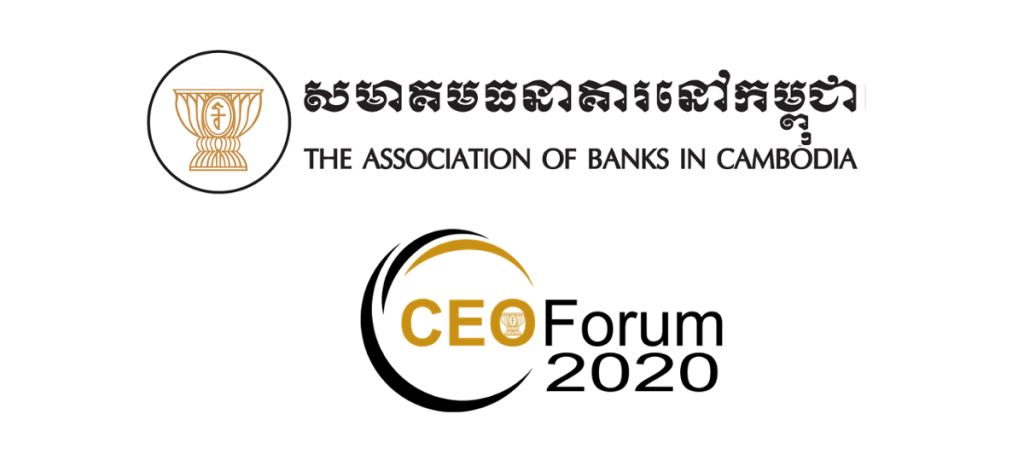 Climate Change and Cambodian Banks: Risks and Opportunities
AGENDA
Agenda
15:00

-

15:05

Welcome Speech

Dr. In Channy, The Chairman of The Association of Banks in Cambodia (ABC)
15:05

-

15:10

Key Remark:

Mr. Richard Chen, Director for the Food Security and Environment Office at USAID
15:10

-

15:15

Key Remark:

H.E. Tin Ponlok Secretary of State, Ministry of Environment
15:15

-

15:20

Opening Remark:

H. E. Rath Sovannorak, Director General of Banking Supervision of National Bank of Cambodia (NBC)
15:20

-

15:30

Presentation: Introduction to ABC and USAID collaboration and linkage between ABC Sustainable Finance Principles and Climate Change

Ms. Christy Owen, Chief of Party, USAID Green Invest Asia
15:30

-

16:10

Presentation: Climate Change: Impacts, Risks and Opportunities in the Financial Sector Prashant Murthy, Green Finance Officer, FMO (Dutch Development Bank)

1. Mr. Walter Van Der Wees, Investment Officer at FMO 2. Ms. Nicci Bouwman, Senior Corporate Governance Advisor at FMO 3. Mr. Prashant Murthy, Sustainable Finance Officer at FMO
16:10

-

16:25

Interactive session: Brief survey on the status and interest in Climate Change considerations in financial institutions in Cambodia

Mr. Binod Chapagain, Monitoring and Evaluation Advisor, USAID Green Invest Asia.
16:25

-

16:35

Q & A and closing

Mr. John McGinley, Partner, Mekong Strategic Partners and USAID Green Invest Asia.
Speakers
Binod CHAPAGAIN

MONITORING AND EVALUATION ADVISOR AT USAID GREEN INVEST ASIA

Binod brings over 20 years of international development experience, including work in social forestry and natural resource management. Currently, he works as the Regional Monitoring and Evaluation Advisor for USAID Green Invest Asia and leads the program's performance planning, monitoring, evaluation and learning, also overseeing all data collection, analysis and reporting. Binod holds PhD in Development Studies from the Australian National University.

Christy OWEN

CHIEF OF PARTY AT USAID GREEN INVEST ASIA

Ms. Owen serves as the Chief of Party for USAID Green Invest Asia, and Thailand Country Director for the global NGO, Pact, Inc. She oversees a team mobilizing private investment into low-emission agriculture and forestry practices across Southeast Asia.
She has spent nearly 20 years designing and implementing environmental management, biodiversity conservation, and climate change projects in the Philippines, Venezuela, EI Salvador, Equatorial Guinea, and the lower Mekong region.

Dr. In Channy

CHAIRMAN OF THE ASSOCIATION OF BANKS IN CAMBODIA (ABC)

Dr. In Channy is the Chairman of The Association of Banks in Cambodia (ABC) and President & Group Managing Director of ACLEDA Bank Plc., a position he has held since it was established as a bank in 2000. He became a member of the Board of Directors of ACLEDA Bank Plc. in August 2014. He was one of the founders of the Association of Cambodian Local Economic Development Agencies (ACLEDA) in January 1993. He is also Chairman of ACLEDA Bank Lao Ltd. and ACLEDA MFI Myanmar Co. Ltd., Shareholder Representative of ACLEDA Bank Lao Ltd., ACLEDA Securities Plc., ACLEDA Institute of Business, ACLEDA MFI Myanmar Co., Ltd. and the Chairman of ACLEDA Financial Trust.

H.E RATH SOVANNORAK

DIRECTOR GENERAL OF BANKING SUPERVISION, ASSISTANT GOVERNOR OF NATIONAL BANK OF CAMBODIA (NBC)

H.E Sovannorak, a Cambodian national, joined the National Bank of Cambodia in 1988 and has held a variety of positions in the NBC such as Deputy and Division Chief in the Exchange Management Department, Branch Manager of NBC's Kampong Thom Branch, Deputy and Director of Banking Supervision Department and Deputy Director and Director General of Banking Supervision. His thirty two-year service has been committed to the banking system reform in Cambodia. In these last few years, H.E Rath Sovannorak has actively participated in various conferences and seminars in the country and abroad regarding the regulatory framework in banking and microfinance supervision and the mobile banking services. Currently, He is also a member of some committees within the National Bank of Cambodia such as Financial Stability Committee, Monetary Policy Committee, the Banking Supervision Committee, and he is also a Board Member of National Accounting Council. H.E Sovannorak holds a Master Degree in Financial Economics from the University of London, England and a Master Degree in Development Economics from the Williams College, MA, USA.

H.E. Mr. Tin Ponlok

SECRETARY OF STATE OF THE MINISTRY OF ENVIRONMENT (MOE)

H.E. Mr. Tin Ponlok joined the Cambodian Ministry of Environment in 1994 after receiving his PhD degree in technical sciences in the same year. From 1996-2009 he had been managing a number of environment, climate change (both mitigation and adaptation), and renewable energy projects in Cambodia. He now works as Secretary of State of the Ministry of Environment and Second Vice-Chair of the National Council for Sustainable Development.

John MCGINLEY

PARTNER AT USAID GREEN INVEST ASIA AND MEKONG STRATEGIC PARTNERS

As Managing Partner of Mekong Strategic Partners (MSP) and Strategic Advisor to USAID Green Invest Asia, Mr. McGinley brings two decades of experience in banking and financial services, strategy, and the international development sector. He has successfully built high-performing businesses across the Mekong Region. Prior to founding MSP, John worked for ANZ (Australia & New Zealand) Bank for the Greater Mekong Region and led the bank's approach to market entry and expansion across the Greater Mekong Region.

Mr. Prashant Murthy

SUSTAINABLE FINANCE OFFICER AT FMO

Prashant Murthy works as a Sustainable Finance Officer at FMO, the Dutch development bank. He principally focuses on funding green projects through financial intermediaries. Prashant joined FMO in 2018. Prior to that he worked for a number of years with the International Finance Corporation, the private sector arm of the World Bank Group, covering investments in financial institutions in the East Asia and Pacific region.

Mr. Richard Chen

DIRECTOR FOR THE FOOD SECURITY AND ENVIRONMENT OFFICE AT USAID

Richard Chen joins the USAID/Cambodia Mission as the Office Director for the Food Security and Environment Office. This is Richard's sixth overseas mission. Richard previously served with the USAID/West Africa Regional Mission as the Regional Economic Growth Office Director managing programs across 21 countries in Agriculture, Trade, Environment, Energy, and Water and Sanitation. He was previously posted with the bilateral Ghana mission, Mongolia, Afghanistan, and Indonesia. An Economist by training, Richard is a published author in the National Journal of Economics and Finance on capital markets.

Mr. Walter Van Der Wees

INVESTMENT OFFICER AT FMO

Walter Van Der Wees is an Investment Officer in the Financial Institutions team from FMO, the Dutch development bank. He focuses on debt investments in Southeast Asian financial institutions. Walter joined FMO in 2008 and before joining the investment team had functions in varying disciplines from Treasury and Accounting to Financial Risk Management and Credit Analysis. Prior to FMO he worked at different European Asset Management companies and commercial Financial Institutions.

Ms. Nicci Bouwman

SENIOR CORPORATE GOVERNANCE ADVISOR AT FMO

Nicci Bouwman works as a Senior Corporate Governance Advisor at FMO, the Dutch development bank. She advises clients and investees on Corporate Governance, drawing on her previous experience as a Senior Investment Officer at FMO and as a finance lawyer at a global law firm. Her areas of expertise include financial institutions, private equity fund governance and climate change governance.